THE NEXT BATMAN, PART ONE / OUTSIDERS, PART ONE / ARKHAM KNIGHTS, PART ONE

Written by John Ridley, Brandon Thomas & Paul Jenkins
Art by Nick Derrington, Sumit Kumar, Raul Fernandez & Jack Herbert
Colors by Tamra Bonvillain, Jordie Bellaire & Gabe Eltaeb
Letters by Clayton Cowles, Steve Wands & Rob Leigh
This first Issues is comprised of three different all new stories set in the FUTURE STATE
The Next Batman
Who is the Next Batman and how will Gotham receive this new Caped Crusader?
Gotham City has always been dangerous—but now, it's downright deadly! Following the tragedy of "A-Day," the mayor allowed the private law enforcement group known as "the Magistrate" to take over policing so-called mask crime—and that has given rise to a new Dark Knight! What is this mysterious crime fighter's connection to former Batman weaponeer Lucius Fox? The fight for justice has never been this dangerous!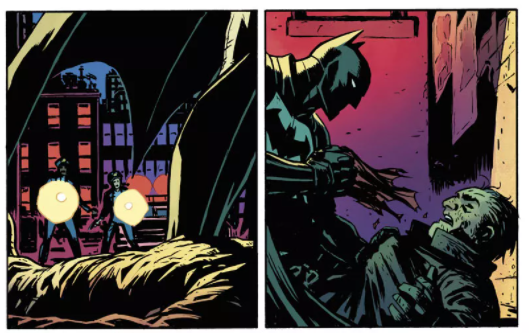 The Outsiders
The Outsiders are back, but they have received a very cool upgrade.
In a new tale of the Outsiders, everything in Gotham City may be under the thumb of the Magistrate—but even members of that totalitarian force know that the outskirts of town are protected by the sword of Katana!

Arkham Knights
A new force rises out of Arkham, but whose side are they on?
Ride with the Arkham Knights on their quest for freedom. Arkham Asylum has been decommissioned, and the Magistrate rules the land with an iron fist and zero tolerance. Now it's time for the lunatics to take back their town! Follow Croc, Two-Face, Phosphorus, Zsasz, Clayface, and Astrid Arkham as the Arkham Knights raise holy hell on the occupiers of Gotham!

Three different Stories that will reshape both Gotham City and the Legacy of The Batman.
This title will be available January 5th 2021 wherever DC comics are sold

Written by Daniel co-host of the Next Issue Podcast
@eckospider on Twitter. 
Find the bi- Weekly podcast @NextIssuePod anywhere podcasts are available.
Podcast available at Next Issue Podcast page