In a world of comic event happening every few months. DC comics prepares to launch Future State on January 5th 2021, but if you're a new reader or have not been reading DC comics, the question remains, "What is Future State
Here is the official description from our peeps at Comixology.

"DC Future State spotlights the World's Greatest Super Heroes in fresh new roles, with all-new characters taking up their iconic mantles and terrifying new Super-Villains that will push them beyond their limits. DC Future State features an incredible array of creative talent, combining award-winning writers and artists with new voices from the worlds of TV, movies, and animation. In DC Future State, the Multiverse has been saved from the brink of destruction, but the triumph of DC's heroes has shaken loose the very fabric of time and space! The final chapter of Dark Nights: Death Metal brings new life to DC's Multiverse, kicking off this glimpse into the unwritten worlds of DC's future!"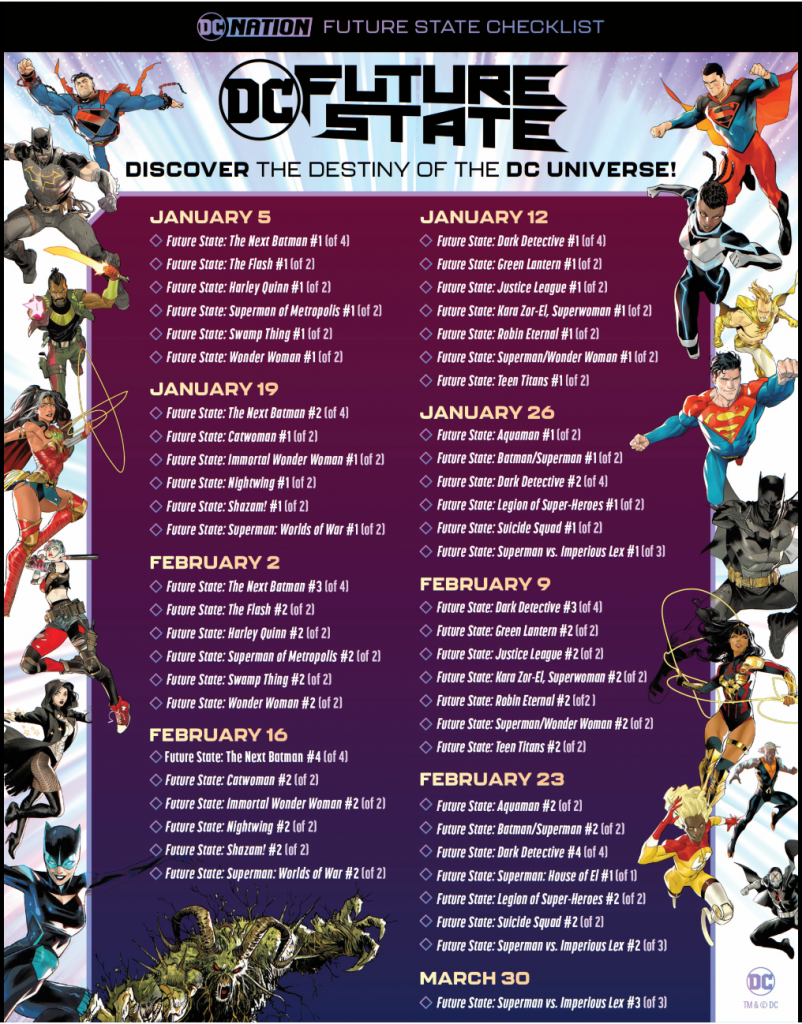 Starting this January, for two months, DC comics is taking a break form their ongoing continuity and skipping ahead into the future, a Future State where we'll see the next generation of DC heroes having adventures, before returning to the present.
Presumably if some of those short miniseries about future heroes are really popular, they may get sequels. This potential glimpse into a future timeline. DC is has assembled an amazing roster of creator so handle these stories.
It would be fair to assume that any series that is successful could be continued in the future although no official announcements have been made.
How to best pick what to read in Future State. Here is what we recommend.
1- Follow a creative team that you like even if you have never read that character or series.
2- Pick a character or family of characters (Batfamily, Superfamily, Magic etc)
3- Check out only the Anthology books, a few of the announced books are 80 page giants that contain 3 stories each, be advised those are priced at $7.99, most of the other titles range from $3.99 – $5.99
4 – If you have an unlimited budget, just get them all!!
5 – If patience is your strongest trait, wait for a collected edition or wait until the DC Infinite Service launches and they should be available to read there as part of your subscription in the next 6 months.
Let us know in the comments or twitter, which books you picked up, who are your new favorite characters and which stories you would like to see continued.
Written by Daniel co-host of the Next Issue Podcast
@eckospider on Twitter. 
Find the bi- Weekly podcast @NextIssuePod anywhere podcasts are available.
Podcast available at Next Issue Podcast page